MONDAY TIPS FOR A VICTORIOUS CHRISTIAN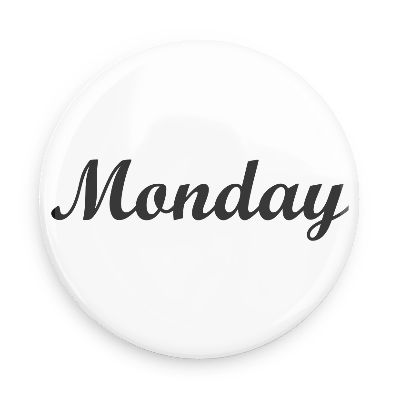 Monday! Monday! Monday! Most people do not like the sound of 'MONDAY' and am very sure Monday personified would be wondering

'What exactly did I do wrong?'

And a host of people would have enough strength to tongue - lash monday. I have learnt that as a christian, rather than complain about Monday, we should rejoice about it because by taking advantage of it, we can have a victorious week whereby everything would work in our favour and we will come out as overcomers and conquerors.
So, how do we take advantage of Monday? Below are a few tips -

1. BE GLAD ITS MONDAY!

You will do yourself more good if you are happy about the day. Starting out your day in utter sadness would produce results below expectation. No matter how much you think you will work today, be happy today is Monday. By just being glad, you will be suprised how everything would turn out just fine!

2. COMMIT YOUR MONDAY TO GOD

Monday is the first day of the 'working week' so you have to commit it to God. Your monday determines how the rest of your week might be. An employee who has a bad monday might end up struggling with the rest of the week. So, tell it to God and He alone can make you have a stress - free monday and a fun filled week

3. SET GOALS

Monday is a great day to set goals. There are so many things we can achieve during the week if we firstly priortize them on monday. Set them on a scale of preference and how you are going to achieve them. We all have a lot of things we want to do but keep procastinating by saying 'Next week'. Many times, next week never comes. You could set achievable goals on monday and by following them closely, you will be fascinated how much you were able to achieve when the week comes to a close.

4. SET TARGETS

Personally, there is something I am earnestly believing God for this week and I have set a target. Prayerfully and Hopefully, I will get it before friday. I am faith - conscious and I believe that with the little faith I have, though like a mustard seed, I can always move mountains. By God's Grace, I will get what I am expecting before friday. You could do same today. Are you expecting money or a contract or something? Tell it to God and set a time frame and target. You will be glad you did because God answers prayers. Just have faith!

5. SECURE YOUR WEEK

Like I mentioned earlier, your monday is a great determinant of how the rest of your week will be. You can secure your week in God's hand on Monday. Pray against every stumbling block and pray that God takes control of your week. Pray that God meets your needs and pray for God's favour.

With these five tips, you will sure have a victorious week ahead. Enjoy your Monday!